Lodges and Resorts
Lodges and resorts typically have more guest rooms on their properties than bed and breakfast or guest houses and central common areas.
Book BanffNationalPark.com Lodging – Get $100 worth of FREE Activities and Food Discounts – Promo Code: 266527
Lake Louise, Alberta, Canada
Banffnationalpark.com is the official tourism hotel, accommodations and lodging booking engine of the Canadian Rockies. Book through us and save up to 70 percent off AND get $100 worth of FREE activities and restaurant coupons. To receive your coupons, email us at hotels@canadianrockies.org and include your confirmation number in the subject header.
Free $100 worth of coupons and discounts do not apply when you book directly with a hotel.
Located 50km east of Jasper, amidst lush pine forest and majestic mountains, lies Overlander Mountain Lodge. It is known as a tranquil retreat, one that can be as active as you like with year-round activities at your doorstep. Choose from a range of accommodation, including suites and private cabins. The on-site Stone Peak Restaurant showcases regional cuisine artfully prepared and accompanied with a six time award winning wine list. To preserve serenity, a getaway at the Lodge means there is limited wireless, TV or phone access. Pet-friendly rooms available. The Lodge hosts small meetings and weddings as well.
Website: Click here!
Sunwapta Falls Rocky Mountain Lodge
Fine dining, complimentary holiday planning, and a 1400lb, walking, talking Grizzly Bear! Yes, you read right. Sunwapta Falls Rocky Mountain Lodge is a great choice for nature-loving families who want to add a touch of excitement to their Canadian Rockies vacation. These newly renovated cabins are immaculate and we are well-known for their friendly, helpful staff. Whether dining in the restaurant, checking in, or shopping in the Gift Shop, each staff member is happy to share our insider recommendations and favourite areas of Jasper National Park. The Front Desk provides free daily itineraries, complimentary holiday planning, activity bookings and advice all hours of the day.
Website: Click here
The Fairmont Jasper Park Lodge
The Fairmont Jasper Park Lodge Is A Deluxe Hotel Located 225 Miles From Edmonton International Airport And 275 Miles From The Calgary International Airport. The Lodge Is A Full-service Resort With Many On-site Activities Available.
Whistlers Inn- Jasper , Alberta, Canada
Whistlers Inn of Jasper, Alberta is centrally located in the heart of the Jasper National Park townsite and within walking distance of all shops, and outdoor activities. Our Jasper Inn boasts a cozy Jasper Canadian Rockies alpine atmosphere and features 63 spacious guest rooms for accommodation, many with breathtaking views of the surrounding Canadian Rockies ranges.
Stoneridge Mountain Resort of Banff & Canmore
Welcome to Stoneridge Mountain Resort, nestled among the majestic Canadian Rockies in Canmore, Alberta and just 15 minutes to Banff and Banff National Park. Enjoy our luxury suites Our accommodations offer comfort, space, and the perfect oasis for your next mountain vacation or business conference. Our Canmore resort is just a few minutes from Downtown Canmore.
The Falcon Crest Lodge of Banff & Canmore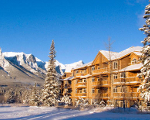 CANMORE, ALBERTA- Canada – Falconrest Lodge of Banff, Albert offers luxurious mountain accommodations located within minutes of Banff National Park. The Falcon Crest Lodge in Canmore offers the perfect setting for your next Rocky Mountain Retreat. As one of Canmore's finest hotels, Falcon Crest Lodge allows you to indulge with our hotel features and amenities including granite countertops, fluffy duvet comforters, pillow-top mattresses and unparalleled service. Just 15 minutes from Banff and close to golf, ski and the best things to do in the Canadian Rockies.
Website: Click Here!
Conveniently tucked away between world famous Banff and Lake Louise, you will find a holiday gem among Banff accommodations. Enjoy the charm and hospitality and honest values that have been our signature for over sixty years.
Click here to start your vacation!
Read an article about Johnston Canyon Resort.
Website: Click Here!
Banff's Rundle Ridge Chalets

Banff, Alberta, Canada Rundle Ridge Chalets has 44 cozy cedar cabins located along the Rundle Mountain Ridge in the Hamlet of Harvie Heights between Canmore and Banff, Alberta. Come Enjoy Banff National Park's finest cabins.Rundle Ridge Chalets is located amongst the majestic Canadian Rockies and is within minutes to ski sills, lakes, trails for hiking or cross country ckiing, rivers and waterfalls all just outside your Cabin door.
Website: Click here!
Fill-out our Cabin Rental Booking Request Form now!
Backcountry Lodges
Because of their special nature – only being accessible by hiking or skiing to the property (Exception: Assiniboine and Diana Lake has helicopter access from Canmore and Purcell Lodge has heli access from Golden ) we have chosen not to list all the backcountry lodges, only a selection of the best one that suit the category.
Brewster's Mountain Lodge is one of Banff's premier hotels providing warm, mountain comfort and located downtown Banff close to dining, pubs and shops.
Located Two Blocks From Downtown Banff In Alberta, Canada, The Bow View Lodge Lies Directly Beside The Bow River, Where Guests Can Rent Canoes For Serene Boat Trips. A Tree-lined Path Outside Leads To Exceptional Views Of The Surrounding Canadian Rockies.
On The Slopes Of The Canadian Rockies Overlooking Banff, Alberta, The Buffalo Mountain Lodge Is An Ideal Getaway For Couples, Outdoor Adventurers And Families Near Pristine Waterfalls, Lakes And Plenty Of Biking, Hiking And Skiing.
The Deer Lodge Is Secluded Within A National Park Near Lake Louise Village In Alberta, Canada. The Lodge Stands One Kilometer From Hiking Trails And Six Kilometers From The Lake Louise Ski Hill.
Book BanffNationalPark.com Lodging – Get $100 worth of FREE Activities and Food Discounts – Promo Code: 266527
Brewster's Mountain Lodge
Banff, Alberta – Canada
208 Caribou Street
Banff
AB
Brewster's Mountain Lodge is located in central Banff, close to Canada House Gallery, Upper Hot Springs, and Mount Norquay Ski Resort. Nearby points of interest…
Red Carpet Inn
Banff, Alberta – Canada
425 Banff Ave
Banff
AB
Red Carpet Inn is located in Banff, close to Banff National Park Information Centre, Mount Norquay Ski Resort, and Upper Hot Springs. Nearby points of interest also include…
Banff Inn – Banff, Alberta – Canada
501 Banff Ave
Banff
AB
Banff Inn is located in Banff, close to Banff National Park Information Centre, Mount Norquay Ski Resort, and Upper Hot Springs. Nearby points of interest also include Banff…
Banff International Hotel
Banff, Alberta – Canada
333 Banff Ave
Banff
AB
Banff International Hotel is located in central Banff, close to Banff National Park Information Centre, Mount Norquay Ski Resort, and Upper Hot Springs. Nearby points of…
Banff Park Lodge
Banff, Alberta – Canada
222 Lynx St
Banff
AB
Banff Park Lodge is located in central Banff, close to Canada House Gallery, Mount Norquay Ski Resort, and Upper Hot Springs. Nearby points of interest also include Whyte…